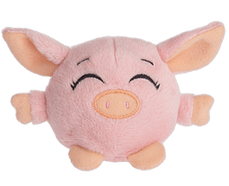 Roseberry Pig
is a Common season 1 Scoop.
Appearance
Edit
A pale pink pig with long ears that have tan coloring inside, matching it's snout, hoof paws, and feet. It's eyes are shut with small lashes at the corners.
Personality
Edit
Our pretty pig is thinking of a giant dish of sweet 'n fruity ice cream and can't wait to dive in!
It's name is based on Raspberry.