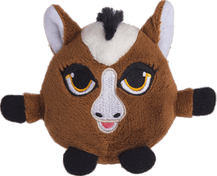 Rocky Road Horse
is a Common season 1 Scoop.
Appearance
Edit
A chocolate-colored horse with white inner-ear to match the coloring on it's head and its nose. It has black feet and hands, matching its mane. It has almond shaped eyes of orange with lashes at the corners.
Personality
Edit
When the road is chocolate and the rocks are marshmallow, this gentle horse will graze all day!