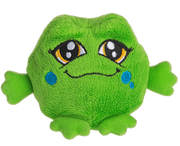 Pistachio Frog
is a rare season 1 Scoop.
Appearance
Edit
A green frog with a cat smile for a mouth. It has three blue speckles on its cheeks, and large eyes of gold with small lashes at the corner.
Personality
Edit
Check out this winning smile! Our sassy frog is ready to hop into your heart--or your bowl of ice cream.