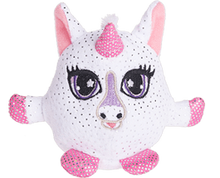 Jubilee Unicorn
is an ultra-rare season 1 Scoop.
Appearance
Edit
A white unicorn coated with silver sequins. Her inner-ear, horn, and paws are pink. She has a lavender streak on her nose to match her large, feminine almond-shaped eyes. In each eye is a white star pupil. She has white hair.
Personality
Edit
The most magical of all the Silly Scoops, this sparkly unicorn is like a triple scoop of happy! If you're lucky enough to find her, hold on tight!