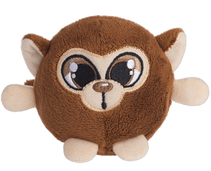 Banana Split Monkey
is a Common season 1 Scoop.
Appearance
Edit
A chocolate-brown monkey with it's inner ear, paws, and face being tan. It has an oval-shaped brown nose and pale brown, wide eyes with a curious expression.
Personality
Edit
This playful little monkey has a real sweet tooth, so keep your eye on your ice cream or it will...split!